Our suggestions for your winter beers
Lemon, blackcurrant, spice
Intense blackcurrant flavours and classic British spice make this an ideal hop for your seasonal porter or stout.
Lemon, blackcurrant, spice
The hop we all know and love, Cascadian character for a Cascadian dark ale!
Lemon, blackcurrant, spice
Dual-purpose beast! With punchy citrus, herbal and dark fruit notes, Columbus works fantastically in all dark beer styles.
Wonderfully versatile variety with citrus, pine and tropical fruit flavours. Perfect for a black IPA.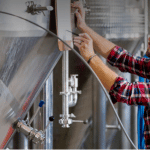 Classic English notes with a delicious marmalade character. Chocolate orange stout anyone?
Grapefruit, resinous, blackcurrant
With notes of blackcurrant and dark hedgerow fruit, Jester is a deliciously rich and punchy option.
Weyermann® CARAFA SPECIAL Type 3
CARAFA SPECIAL® is the de-husked version of CARAFA®. Using a unique process, the barley is de-husked before it is malted and roasted.
This reduces astringency, bitterness and harsh flavours, and accentuates the rich chocolate, cocoa and coffee notes.
Weyermann® Beech Smoked Malt
This malt is carefully dried over hot, smoky embers of well-aged beech wood to achieve its characteristic complex smoky flavour, while retaining a relatively pale colour. Can make up to 100% of your grist.
Weyermann® Sinamar® Liquid Malt Extract
SINAMAR® is an extract produced entirely from CARAFA® roasted malt. It contributes a rich, dark colour to the finished beer but imparts next to no bitterness.