Our suggestions for your winter beers
Lemon, blackcurrant, spice
Intense blackcurrant flavours and classic British spice make this an ideal hop for your seasonal porter or stout.
Lemon, blackcurrant, spice
The hop we all know and love, Cascadian character for a Cascadian dark ale!
Lemon, blackcurrant, spice
Dual-purpose beast! With punchy citrus, herbal and dark fruit notes, Columbus works fantastically in all dark beer styles.
Wonderfully versatile variety with citrus, pine and tropical fruit flavours. Perfect for a black IPA.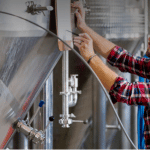 Classic English notes with a delicious marmalade character. Chocolate orange stout anyone?
Grapefruit, resinous, blackcurrant
With notes of blackcurrant and dark hedgerow fruit, Jester is a deliciously rich and punchy option.
Reliable LighthouseChocolate Malt
Provides colour to beer. Depending on the quantity added, it can produce a deep red hue or a rich dark black. A dry biscuit with roasted coco bean flavour. Ales, Porters and Stouts
Thirsty ThistleHeavy Peated Distilling
Not for the faint hearted, heavy peated malt for smokey beers or smoked whisky,
using the peat furnace of Pauls Malt's maltings in Glenesk, Scotland
Angry Black BearBlack Malt
Identical in flavour with high end chocolate malt, but higher in colour.