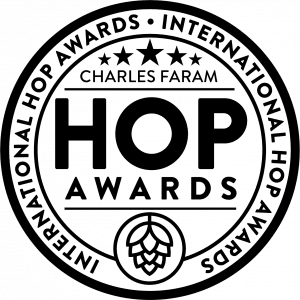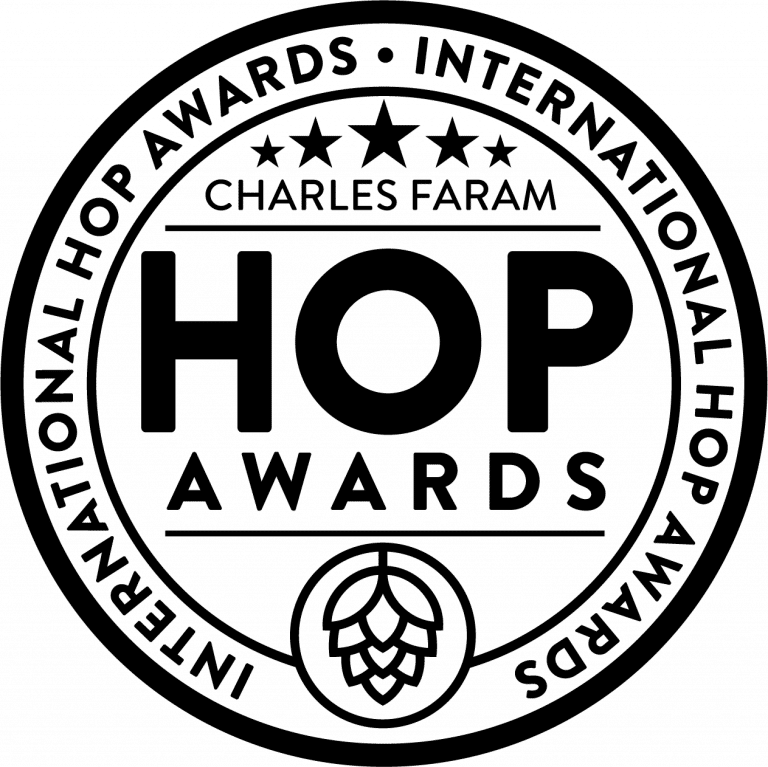 The Charles Faram International Awards 2023
The Charles Faram International Hop Awards are about recognising the commitment excellence of growers in the UK, USA, Czechia and Germany in the Hop Development Program, Charles Faram's fast-moving hop breeding initiative, that concentrates on new flavours, disease resistance, improved yields, and environmental sustainability. This year the awards have been especially exciting in highlighting the consistency and successful formula for hop growing and quality across all aspects of the breeding project. 
Besides winning the awards, the growers are given in-depth feedback from the judges. The judging panel consisted of twenty-one eminent international head brewers, who were asked to consider a range of desirable characteristics that they look for, as well as to judge aroma and quality. The results are an excellent way to benchmark best practices and raise overall quality across all farms.  
The results are an excellent way to benchmark best practices and raise overall quality across all farms.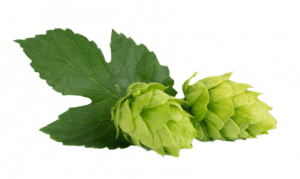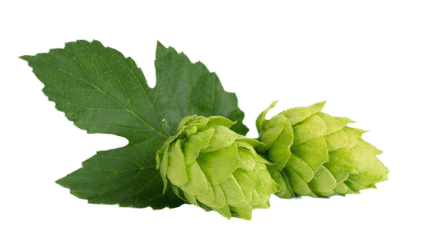 Overall Commercial Variety Winner
This year's winners were announced at the Charles Faram main offices on Friday the 10th of February and were presented by our technical director Will Rogers.
The overall winner for the commercial varieties was awarded to Mark and Lesley Andrews from Townend Hop Farm, for their sample of the Harlequin® hop variety. 
"We are delighted to win this award; the team have worked extremely hard to produce these hops in the very best condition. To have that recognised by the judges is amazing. We are looking forward to seeing how Harlequin® develops as a variety in the future. We are certainly keen to grow more!" 
Mark Andrews
Townend Hop Farm
COMMERCIAL HOPS
Gold, silver and bronze
Judged on:
Aroma intensity I Aroma quality I Appearance quality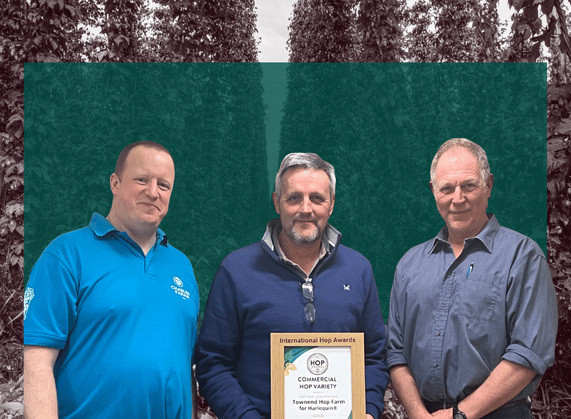 Mark and Lesley's farm is based in Herefordshire and has been in the family for three generations and continues to produce award-winning hops. 
Commercial Variety Silver and Bronze Awards
Richard and Alison Capper from Stocks Farm won the silver award, adding another trophy to their award-winning hop portfolio.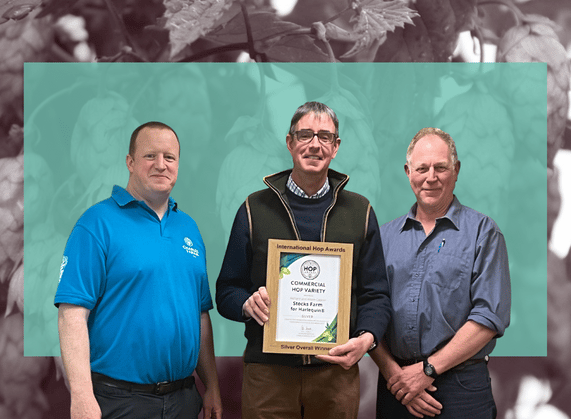 Remarkably, again this year Harlequin® also won the silver and bronze awards.
Sarah Hawkins from Hawkins Farming was awarded the bronze certification. 
Earlier this year Sarah travelled to the Pure Craft Bar in Birmingham to pick up the overall champion award at the Institute of Brewing and Distilling's (IBD) prestigious hop awards ceremony for British hops in the UK.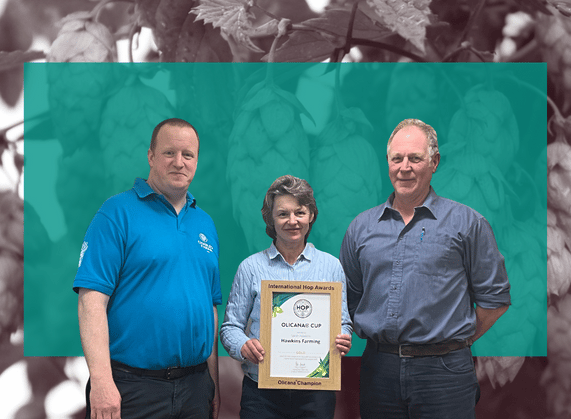 Hawkins hops are experiencing distinct success this year and we are looking forward to seeing what comes next. 
The early-stage variety category was awarded to the CF310 variety, which was grown by Mark and Lesley Andrews (Townend Hop Farm). Varieties with a CF code signify that it is still in the trial plot stage, as soon as the hop hits the commercial release stage then it is given a proper name. These samples can come from any of the international locations within the Charles Faram Hop Development Program. 
Brand new seedling K9 from Peter Glendinning won the new hop variety award, so this hop will continue to the next phases of trials and will potentially be released commercially in as little as five years. This category is for completely new varieties, where only one plant exists in the Charles Faram nursery in Herefordshire. In fact, it is in such a top-secret location that even some of Faram's team members are unaware of where it is!  
The topic of new varieties brings in a whole continuous stream of news about new flavours, sustainability and carbon footprint initiatives. 
Jes
ter®, Olican
a®
and Harlequin® Cup
The Jester® Cup, Olicana® Cup and Harlequin® Cup are all awarded for the best sample of their respected and established varieties. The Jester® Cup was won by Jonathan Adams from Lower House Farm Worcestershire, the Olicana® Cup was awarded to Sarah Hawkins and the Jester® Cup was presented to Mark and Lesley Andrews.  
JESTER® CUP
Highest scoring Jester® sample
HARLEQUIN® CUP
Highest scoring Harlequin® sample
OLICANA® CUP
Highest scoring Olicana® sample
The Jester® Cup, Olicana® Cup and Harlequin® Cup are all from the UK, as this is where the Hop Development Program started, so it is further ahead in releases and development.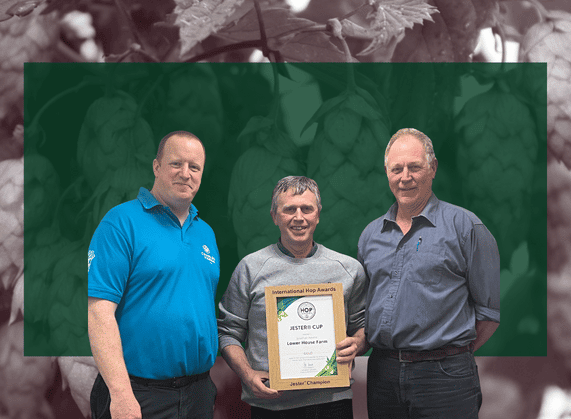 Benefits of the Awards and the Programme
To see why you should care, we show you how much we care, why and what we are doing to help brewers to understand the issues facing the future of hops, the planet and growing consumer awareness for sustainability and origins. It is not just about new hop varieties.
Sustainability relies heavily on knowing what to plant, what not to plant and most of all not wasting hops and environmental improvements in farming. 
The financial impact on unused yields affects livelihoods and the future of hop-growing regions, which is why we continue to present the International Hop Awards. 
With feedback from the Charles Faram International Hop Awards, we can provide detailed analysis of areas of excellence along with areas of improvement for the growers.